Inner Landscapes Publications
Records, Prints and books in small editions
Generaal Bothastraat 5K
5642 NJ Eindhoven
The Netherlands
KvK  20153049
BTW NL001681354B81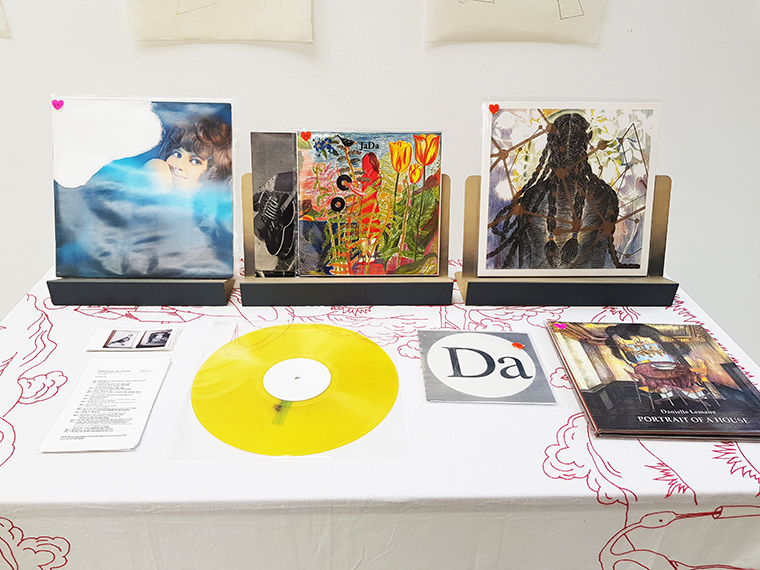 Danielle's releases are connected to her (worldwide) art projects and exhibitions. 
She creates intimite, layered songs and soundpieces in which she tells personal stories of herself, and of fascinating Others.
The lyrics and form of the soundpieces relate to a mystic view on the world and Being.
They can sound like songs or take you to unpredictable landscapes, 
whose edges can be blurred.
The label exists since 1997 and has released a large number of special releases.  Special requests? Mail Danielle Lemaire
Inner Landscapes is the label of Danielle Lemaire on which she releases unique artists audio-and printworks in different forms and small editions. Most items are partly handmade.  This is the selling page of the original maker.
Shipping and delivery policy (including delivery time, shipping method and return policy)
Delivery time & shipping costs
Prices include VAT and exclude shipping. 
Shipping costs for NL are added to your shopping cart.
Do you live abroad? Please

mail me

for careful delivery to your address.
Your items will be shipped within 2 days after your payment. Very well packed with a personal note.


Mail me for further questions or requests

.
Delivery is via PostNL. You will receive a proof of shipment after I have handed over the package to the carrier. 
Reflection time/return
Feel free to email me if you want more information about your order. After your payment, your items will be sent to you carefully packed. In principle it is not possible to return your order, unless: It can always happen that something does not go quite as planned. Please make  your complaint or wish known to me by sending an email to the contact address here under. I will then look for a suitable solution together with you.
Payment methods
You can pay for your order via Ideal and Paypal. Contact me if you prefer another way.
Thank you and I look forward to hear from you.
Danielle Lemaire

Contact
SHOPS and distributors: I also sell to your shop for wholesale prices.
Items are also available at: Art Into Life Haga-Gun/Tochigi, Japan; Sweet Dreams Press Tokyo; Jet Set Records Tokyo; Underbelly Rotterdam; Grey Antwerpen, Graphic Shop Extrapool and more.